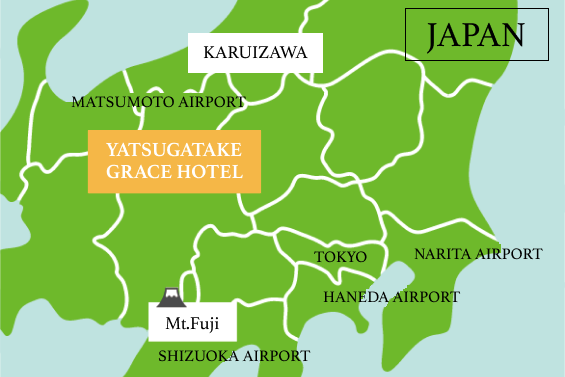 About Yatsugatake Area
The Mt. Yatsugatake area, where Yatsugatake Grace Hotel is located, is just 2.5 hours by car or train from Tokyo. Mt. Yatsugatake (elevation of approx. 2,800m) is a mountain that runs from Nagano prefecture to Yamanashi prefecture. The region is surrounded by nature and is famous as a resort destination where you can enjoy fresh greenery and cherry blossoms in spring, refreshing breezes off the plateaus in summer, fall foliage in autumn, and lovely snow in winter. Nearby, you will find areas dotted with villas, such as Kobuchizawa and Kiyosato.
We are situated in an excellent location that is about 1.5 hours from leading destinations like Mt. Fuji and Karuizawa.
We recommend the "golden route" accessible by car, which takes you on a tour of Tokyo, Karuizawa, Yatsugatake Grace Hotel, and Mt. Fuji.
(Note that, due to the limited number of trains in operation, travel by train can take considerable time.)
The Yatsugatake area is also well-known as an accessible destination to visit while en route from Kamikochi to Tokyo.
---
---